The latest in outdoor games is Axe Throwing, so I'll be giving some details around the sport that you can do in your backyard or a local Axe Throwing business. This sport is moderated by the National Axe Throwing Federation, or the NATF.
What is the NATF?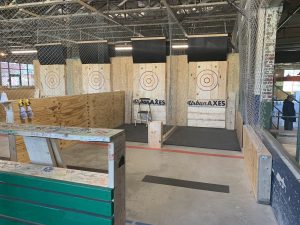 The NATF is is the National Axe Throwing Federation, and they regulate rules and regulations for Axe Throwing leagues across the United States. If you're looking for details around how to start a league, join a league, or build your own axe throwing arena and targets, this is the organization that sets the standards and organizes the championships. If you throw enough axes, you might get good enough to compete at the national level and be an Axepert thrower!
Currently, the NATF represents over 4,500 competitive members. Although the NATF was only founded in 2016, the organization has been honing its rule book for over 12 years.
Why is the NATF Necessary?
The NATF is an important organization to the sport of axe throwing because it helps regulate all kinds of rules from the weight and size of the axe to the area of the target. Additionally, the NATFF has strenuous safety regulations that it requires from all member shops and throwers. These safety regulations ensure that the sport has a viable long-term future, and helps protect axe throwing businesses from unnecessary liabilities.
Axe Throwing Locations
Heard enough and ready to throw? As the NATF grows, so does the sport of Axe throwing. More and more facilities are getting on board with the organization. You can find axe throwing locations on their website, but keep in mind that other facilities may be using their guidelines and just haven't sured up their memberships yet. Grab an axe, find a location near you and tell them to get on board with the National Axe Throwing Federation. It's time to come in clutch.