In the world of competitive axe throwing, there are a lot of fine details in the rules. In this post we'll walk through how to build an official NATF Axe Throwing Target. You may have recently visiting a local Axe Throwing shop with friends and gotten to experience the fun first hand. It like crossed your mind, actually, that you could build this in your back yard for practice. It doesn't take much to build an axe throwing target, you just need a few simple materials:
(3) 2×10 boards cut 4 feet long

You can buy these at a local hardware store and get them to cut the boards to the correct length

Black, Red, Blue and green paint
Paint brush
3′ of string or twine, or a compass.
BONUS: If you'll be doing this often, checkout this built-in measuring tape compass to help you draw your circles quickly.
Axe Throwing Target Dimensions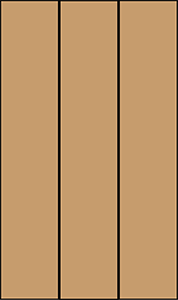 Target Backboard
The three 4-foot long 2x10s will be placed side by side to create a backboard that is roughly 28.5″ wide by 48″ tall (2x10s are actually 9.5″ wide). Many of the axe throwing target dimensions are relative to this backboard.
Main Target Circles
Before you draw the circles, take your measuring tape and find the very center of the backboard. This will be in the dead center of the middle board — 24″ from the bottom and right in the middle. This is the center point of all your axe target circles. We'll be drawing THREE circles.
The Bullseye is the center-most on the target. It measures 7″ in diameter (compass radius of 3.5″). The bullseye is typically black.
The middle circle is 17″ in diameter (8.5″ compass radius), and is typically red.
The outer circle is 27″ in diameter (13.5″ compass radius). This circle is usually blue.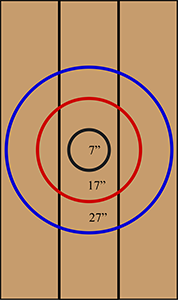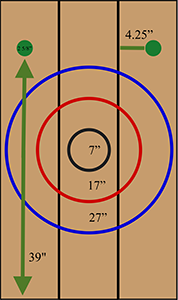 Clutches exist outside the main three target circles. It's probably a good idea to use a straight edge to help you get these right. Locate position of the clutch with these measurements:
Each Clutch has a diameter of 2 5/8″ (compass radius of about 1.31 inches. yeah, super weird).
The bottom edge of each clutch is 39″ from the base of the backboard
The center of each clutch is 5.5″ from the seam between boards, or about 4″ from the outside edge of the backboard. This makes each inside Clutch edge about 4.25″ from the seam
Clutches are usually painted green. If you're building this for recreation in the backyard, don't get too hung up on the Clutch positions — just get out there have fun throwing axes.
Conclusion
Now you should have everything you need to start throwing hatchets at wood for sport! Don't yet have a hatchet? Check our our Competition Throwing Axe recommendations and find one that works for you. Be safe, be smart, and throw some axes!