Yard Games
You must enjoy yard games if you find yourself browsing Cornhole Building. While we love Cornhole here, we also love other yard games, too. You might say we are equal-opportunity yard game enthusiasts (though that's not 100% true because cornhole is still the best).
Here are some of our other favorite backyard games. We'll start with the one we know best.
Cornhole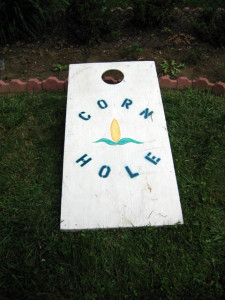 Cornhole is one of the more popular, well-known yard games out there. It's simple, but it's most fun with a little bit of skill and strategy. Cornhole involves throwing bean bags (or corn bags) across a ~27 foot gap onto a board or, preferably, into a hole in that board. It's a crowd pleaser and popular at tailgates and backyard cookouts. Scoring in cornhole is also pretty simple. Learn how to make cornhole boards for yourself as a great hobby, or find out where to buy cornhole sets online.
Beersbee
Buy a Beersbee set on Amazon.
If you want a fun, ridiculous drinking game, I might suggest Beersbee. Otherwise known as Polish Horseshoes (or Pole-ish Horseshoes), Beersbee involves tossing a frisbee at a pole in the distance. That pole is balancing a beer bottle on top. If your frisbee hits the pole, your opponents team (two vs. two), must catch both the frisbee and the beer bottle before they hit the ground. It's harder than it looks, especially because you're often required to have a beer in one hand at all times. Beersbee is incredible easy to make, just take a broomstick or PVC pipe and stick it in the ground, and put a beer bottle on top.
Bocce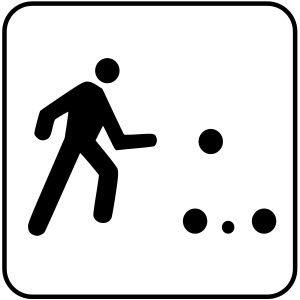 Another fun yard game is Bocce Ball. Bocce is played in backyards and on beaches and involves throwing heavy, softball-size balls toward a smaller golfball-size ball. Closest to the ball wins a point, and if you have multiple balls closer than any of your opponents', you get a point for each one. It's difficult to make bocce sets without very specific equipment, but I typically suggest buying this Trademark Games 9 Piece Bocce Ball Set with Easy Nylon Carry Case
on Amazon.
.
Kubb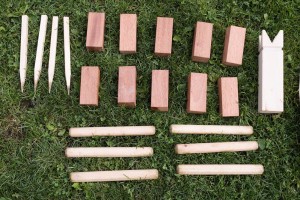 A less known yard game, Kubb is one that will turn heads of the curious. Also known as Viking's Chess, Kubb is a wooden game where you throw dowels at your opponents pawns across the court, knocking them over. There are various methods of playing, and I suggest reading a good set of official Kubb rules. Also, since the game is made of wood, you can find good DIY Kubb game plans online. If you don't have the resources to build your own Kubb set, I recommend buying Kubb on Amazon
 as well.