Nesting Cornhole Boards are the preferred choice for portable, lightweight boards. They aren't always as sturdy, but they are perfect for the beach or tailgating because they pack tight and efficiently, and are easy to carry.
Buy Nesting Cornhole Boards
I generally recommend making these purchases on Amazon.com. They usually have everything you might want or need for Cornhole, and you can mix and match to get your perfect set. Here are my three favorite sets of nesting corn hole boards:
These are priced all across the board (no pun intended), and my best review is simple: you get what you pay for.
Build Nesting Cornhole Boards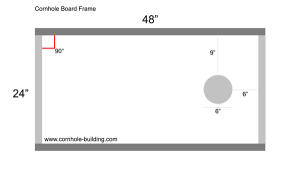 Now, if you're crafty and want to make your own nesting cornhole boards, there are some great plans out there on the web.
On Instructables.com, user psingle1 posted this DIY nesting boards set that is easy to follow and fun to build. This is a robust project and my preferred how-to for building your own boards.
If you want a more fancy, more difficult build (assuming you're into that kind of thing) these Over Engineered Cornhole Boards are an intense project to undertake, but super rewarding to finish.