Cornhole Board Dimensions
It's important to know the correct cornhole board dimensions if you're trying to build cornhole boards or follow the official cornhole rules. Regardless of the source, cornhole dimensions are often the same everywhere you look (unless you're reading about short boards).
Length and Width of a Cornhole Board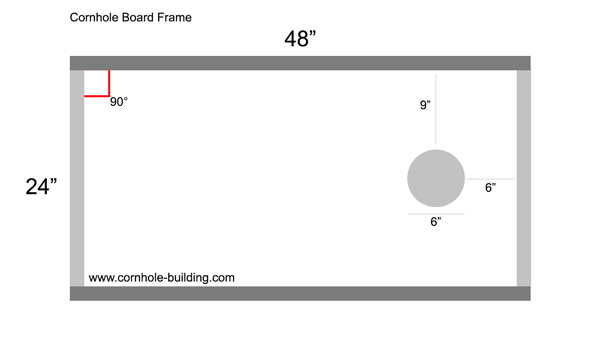 The standard dimensions of a cornhole board are 48 inches by 24 inches, or 4 feet by 2 feet. The two-foot edges make up the front and back of the boards, while the 4 foot edges make up the sides. Occasionally, you might see boards that are 3 feet by 2 feet, but these are not up to the official standards of the American Cornhole Organization.
Size and Location of the Cornhole Board Hole
The cornhole board hole measures 6 inches in diameter. The center of the hole should be 9 inches from the top (back) edge of the board, and 12 inches from either side (centered between the sides. If it's easier to measure from the edge of the hole, the top should be 6 inches from the top (back) edge. The left and right of the circle should be 9 inches from their respective edges of the board.
Cornhole Board Distance From the Ground

The front edge of the cornhole board surface should be approximately 3 inches from the ground, while the back edge of the platform should be 12 inches. When building cornhole boards, these can seem like arbitrary measurements. However, these heights directly affect the angle of your boards, which in turn affect how the boards absorb throws.
Knowing the correct distance from the ground will also influence how you build the legs of your cornhole board. Depending on your design, your legs will be the main variable used to determine the height of the back of the board.
These are the only dimensions you need to know for your cornhole boards. Next, you may want to read about the correct distance between boards or check the official cornhole rules.
Bean Bag Board Dimensions
Generally speaking, Bean Bag Toss rules and boards are the same as Cornhole boards. You might find that some Bean Bag boards are 2′ x 3′ instead of 2′ x 4′, but unless your'e competing in tournaments it is really up the player. This is a recreational game, after all!